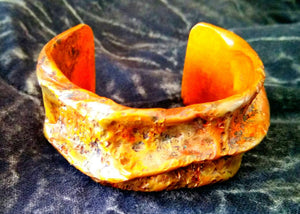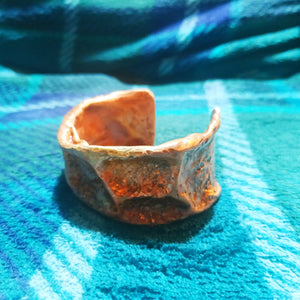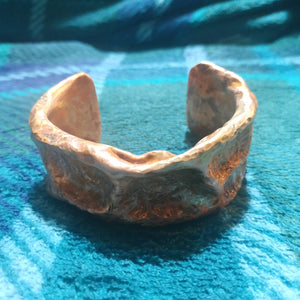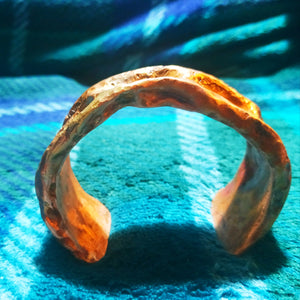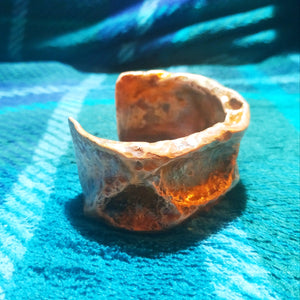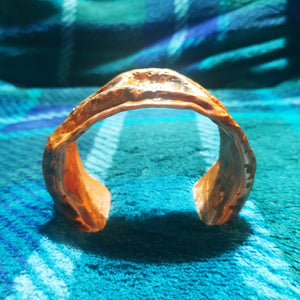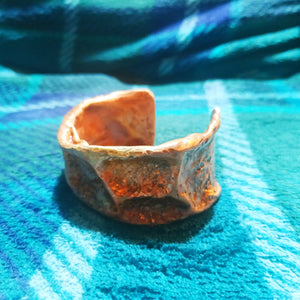 RunecastCopper
Yggdrasil Tree Bark Nature Hammered Copper Cuff Bracelet (Pagan, Heathen, Viking, Boho)
A wonderful creation in copper. Through an extensive process of texturing and heat treatment we have hand crafted a beautiful cuff bracelet that emulates the glory of nature. Reminiscent of tree bark and named after the great world tree of Norse mythology each piece is absolutely unique.
These take 7 cycles of heating to red hot and quenching and several thousand hammer strokes to develop an individual one of a kind textured finish reminiscent of tree bark. They are then painted with fire to bring out a wonderful array of rich tones before being sealed with lacquer to protect the finish. 
Please ask for photographs of the pieces we have in stock. Photograph is an example only and that one may not be available. They measure approx. 3cm wide and designed o fit a wrist 15-18cm in circumference but can be made to fit any size on request.
Cleansed and blessed for strength, health, and protection from the Old Norse Gods and the Viking Ancestors, by the North Sea at Tynemouth, Northumberland, England at the site of the invasion of Northumbria in 875 AD by Halfdene, first King of the Kingdom of Jorvik (York).
Unless otherwise stated your piece will come coated in a tough invisible transparent lacquer to protect the finish however over time and depending on how its treated this coating may break down. As such, depending on your body chemistry and atmospheric conditions this piece may leave a harmless greenish deposit on the skin. This is easily washed off and can be minimized by keeping it clean and dry or lacquering/waxing it yourself.
Non-UK customers. Please note your country may charge import duty, VAT or other taxes on foreign imports. We are in no way accountable or responsible for this and the payment of any such charges are solely the buyer's responsibility. We suggest you familiarize yourself with your country's import regulations before ordering to avoid any unpleasant surprises.