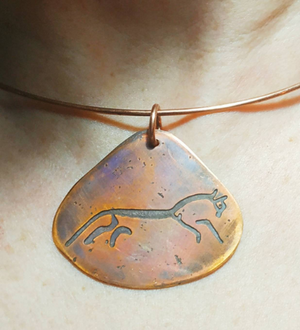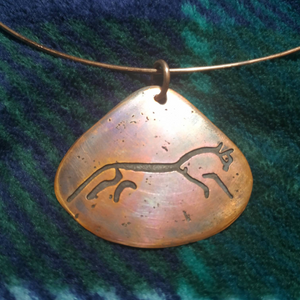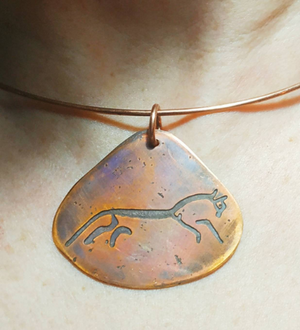 RunecastCopper
White Horse Pendant in Copper. Uffington Ancient Britain, Celtic Bronze Age
The Uffington White Horse is thought to be one of the earliest chalk figures in Britain with evidence that it dates to the late Bronze Age, some time between 1380 and 550 BC. It's is a triumph of an ancient minimalism and captures the essence of the animal beautifully. The horse has always been an ancient symbol of status and power prized by the elite throughout history.

Our tribute to the White Horse is etched on beautifully patinated copper. It measures approx 40mm tall x 48mm wide (very roughly 1.5" x 2") and comes with either a copper neck wire are illustrated or on an adjustable cord. The pendant is made from 1 mm thick copper and is in the form of a gently curved shell-like shape.

Each White Horse pendant is handmade and totally unique. No two are the same. The photograph is an example only. All items are made to order. On request, we will send you photographs of your particular item prior to dispatch for your approval.

Copper and its alloys; bronze and brass, are natural materials. Unless otherwise stated your piece will come coated in a tough invisible transparent lacquer to protect the finish however over time and depending on how it's treated this coating may break down. As such, depending on your body chemistry and atmospheric conditions this piece may leave a harmless greenish deposit on the skin. This is easily washed off and can be minimized by keeping the ring clean and dry or lacquering/waxing it yourself.

Non-UK customers. Please note your country may charge import duty, VAT or other taxes on foreign imports. We are in no way accountable or responsible for this and the payment of any such charges are solely the buyer's responsibility. We suggest you familiarize yourself with your country's import regulations before ordering to avoid any unpleasant surprises.

We cannot be held responsible in any way for delays due to customs or handling by postal services.