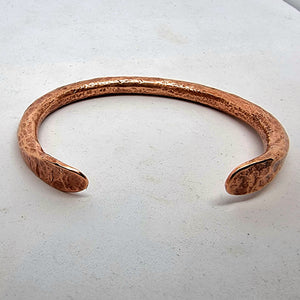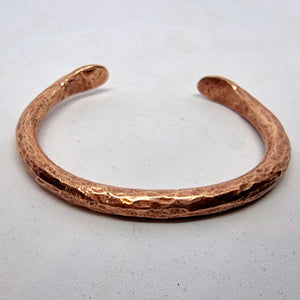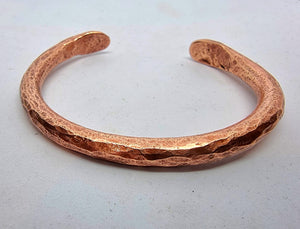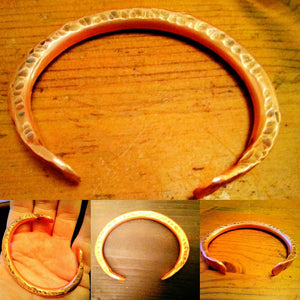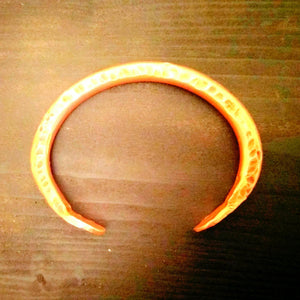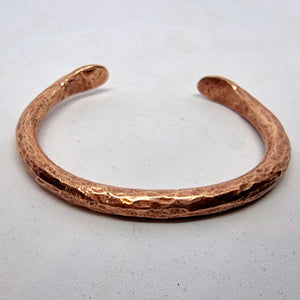 RunecastCopper
Viking Norse Arm Ring, Cuff, Bracelet, Elegant Hammered Armring in Bronze or Copper
This elegantly simple hammered arm ring cuff is handcrafted from durable 6mm diameter copper or bronze. It is inspired by the arm rings worn by the fierce warriors of Viking culture, which were often presented by Viking leaders as a symbol of allegiance and loyalty. The giving of such gifts was a demonstration of the wealth and generosity of the chieftain, and the person who accepted the gift promised his faithful service by accepting it. Thus, the arm ring became a physical reminder of the solemn oath. This arm ring is designed to evoke the spirit of the Vikings and their fierce sense of loyalty and commitment.
The hand-hammered finish gives it a rugged, textured look that adds to its charm. The chunky weight of the arm ring gives it a solid, substantial feel that is sure to be noticed. Its simple, unadorned design makes it the perfect accessory for any man who wants to channel the strength and loyalty of the Vikings. Wear it as a symbol of your own strength and commitment.
This arm ring is perfect for anyone who wants to make a statement and stand out from the crowd. Whether you're a history buff, a fan of Viking culture, or just someone looking for a unique piece of jewelry, this arm ring is sure to be treasured for years to come. It's a one-of-a-kind piece that will make a great addition to any collection. Show your strength and loyalty with this powerful, robust arm ring.
S/m to fit wrist 15-18cm. L/XL to fit wrist 18-21cm
Each is unique. No two are the same. The photographs above are an example only. As all items are made to order we will send a photograph of your item on request before despatch. This item comes with velvet gift bag, an owner's certificate leaflet.
Cleansed and blessed for strength, health, and protection from the Old Norse Gods and the Viking Ancestors, by the North Sea at Tynemouth, Northumberland, England at the site of the invasion of Northumbria in 875 AD by Halfdene, first King of the Kingdom of Jorvik (York).
Unless otherwise stated your piece will come coated in a tough invisible transparent lacquer to protect the finish however over time and depending on how its treated this coating may break down. As such, depending on your body chemistry and atmospheric conditions this piece may leave a harmless greenish deposit on the skin. This is easily washed off and can be minimized by keeping it clean and dry or lacquering/waxing it yourself.
Non-UK customers. Please note your country may charge import duty, VAT or other taxes on foreign imports. We are in no way accountable or responsible for this and the payment of any such charges are solely the buyer's responsibility. We suggest you familiarize yourself with your country's import regulations before ordering to avoid any unpleasant surprises.