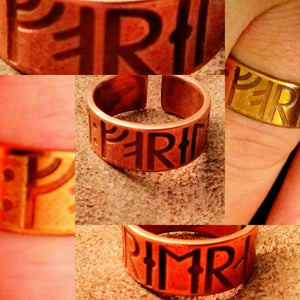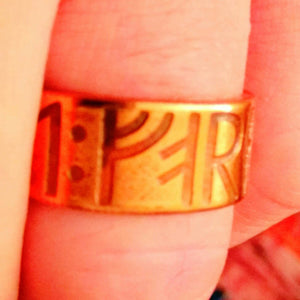 RunecastCopper
Viking Ancestors Rune Ring - Norse, heathen, asatru, pagan, runes, furthark, Odin memory
VIKING ANCESTORS RUNE RING.
PLEASE SPECIFY SIZE WHEN ORDERING RINGS
Beautifully hand-crafted open ring - viking, heathen, Norse rune ring. The inscription in Viking Runes in the Old Norse language reads "Aft Foreldra" which translates as "In memory/honour of the ancestors". Solid precious bronze (1.5mm thick) Also available in antique finished copper and brass (1.5mm thick) The ring measures approx 10mm (3/8") wide made to order in any size - specify when ordering.
This ring would be a fitting memorial for a loved one who has passed on. We can also make matched pairs of rings forged from the same piece of metal to embody an eternal connection - perfect for Handfastings/wedding rings.
Each one is unique. No two are the same. The photographs above are an example only. As all items are made to order we will send you photographs of your item prior to dispatch for your approval.
Cleansed and blessed for strength, health, and protection from the Old Norse Gods and the Viking Ancestors, by the North Sea at Tynemouth, Northumberland, England at the site of the invasion of Northumbria in 875 AD by Halfdene, first King of the Kingdom of Jorvik (York).
Unless otherwise stated your piece will come coated in a tough invisible transparent lacquer to protect the finish however over time and depending on how its treated this coating may break down. As such, depending on your body chemistry and atmospheric conditions this piece may leave a harmless greenish deposit on the skin. This is easily washed off and can be minimised by keeping it clean and dry or lacquering/waxing it yourself.
Non-UK customers. Please note your country may charge import duty, VAT or other taxes on foreign imports. We are in no way accountable or responsible for this and the payment of any such charges are solely the buyer's responsibility. We suggest you familiarise yourself with your country's import regulations. #pagan #heathen #viking #norse #runes #ancestors #memory #ring #jewellery #jewelry