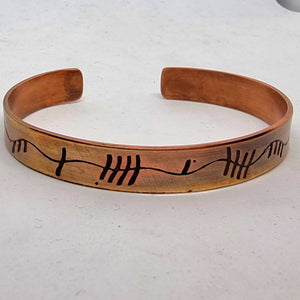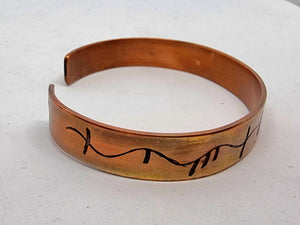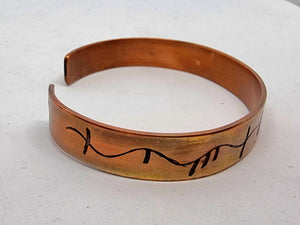 RunecastCopper
Uisce Beatha (Water of Life) Whisky Lovers Celtic Ogham Druid Cuff Bracelet in copper (St Patrick's Day) Irish & Scottish Heritage
Handcrafted "Uisce Beatha" (Water of Life) Celtic Ogham Druid Cuff Bracelet in copper
Introducing the "Uisce Beatha" copper bracelet, a stunning piece of jewelry for those with a passion for whisky and a connection to Irish or Scottish heritage.
This bracelet is crafted from high-quality copper and features the words "Uisce Beatha" engraved in the ancient Irish Ogham alphabet. Ogham is one of the earliest forms of writing in Ireland and has a unique and mysterious charm. The bracelet is adjustable to fit any wrist, ensuring a comfortable and secure fit.
Not only is this bracelet a stylish accessory, but it also serves as a symbol of the rich history and culture of Ireland and Scotland. The name "Uisce Beatha" translates to "Water of Life" in Gaelic, paying homage to the origins of whisky and the significance it holds in the culture of these countries.
The copper material of the bracelet is also significant, as it was commonly used in the production of traditional whisky stills. This adds an extra level of authenticity to the bracelet, making it a perfect gift for whisky enthusiasts and those with a connection to their Irish or Scottish heritage.
So whether you're looking for a unique piece of jewelry to add to your collection, or a special gift for a loved one, the "Uisce Beatha" copper bracelet is a beautiful and meaningful choice.
Wearing this bracelet will make you feel connected to your roots and will also be a statement of your love for the whiskey culture. It's a perfect way to show your appreciation for the traditional art of whisky making, and to honor the rich history and culture of Ireland and Scotland.
Whisky was originally referred to as "uisce beatha" in Gaelic, which translates to "water of life". This name likely originated from the belief that distilled spirits had medicinal properties and could be used to treat a variety of ailments. Additionally, whisky was often used in religious ceremonies and was considered to have spiritual significance. The name "water of life" also likely refers to the high alcohol content of whisky, which can be used to preserve and disinfect water. In Scotland and Ireland, where whisky was first distilled, clean drinking water was often scarce, so whisky was used as a safer alternative.
Another reason for the name 'water of life' might be the social context. Whisky was often a common drink for the people, especially for the working class. The name "water of life" would be a metaphor for how whisky is a source of life and vitality, giving energy and warmth to the body, and being a source of pleasure and conviviality.
Made to order. Beautiful, distinctive and unique handcrafted copper/ cuff rendered in the ancient Celtic Ogham Druid Alphabet written in the Irish Language. 
Copper Cuff 1cm wide and 1.5mm thick.
2 different sizes:
S/M for wrist 15-18cm 6-7" in circumference
L/XL for larger wrist 18-21cm. 7-8.5".
Can customise size to fit if non standard required.
Each one is unique. No two are the same. The photographs above are an example only. As all items are made to order we will advise you of estimated dispatch date. If you need it for a particluar date please contact us in advance to check. 
This item comes with velvet gift bag, a certificate explaining the meaning behind the symbology and a care leaflet.
Copper and its alloys; bronze and brass, are natural materials. Unless otherwise stated your piece will come coated in a tough invisible transparent lacquer to protect the finish however over time and depending on how its treated this coating may break down. As such, depending on your body chemistry and atmospheric conditions this piece may leave a harmless greenish deposit on the skin. This is easily washed off and can be minimized by keeping it clean and dry or lacquering/waxing it yourself.
Non-UK customers. Please note your country's customs officials may charge import duty, VAT or other taxes on foreign imports. We are in no way accountable or responsible for this and the payment of any such charges are solely the buyer's responsibility. We suggest you familiarize yourself with your country's import regulations before ordering to avoid any unpleasant surprises. We are not responsible for post or customs delays once shipped.