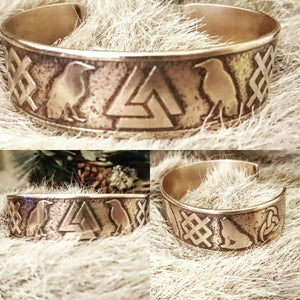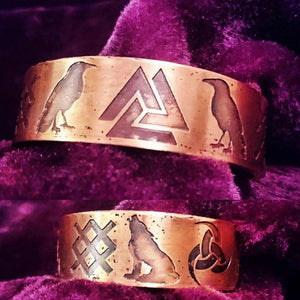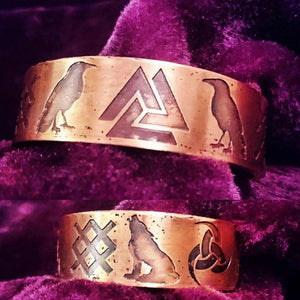 RunecastCopper
The Legends of Odin Armband Cuff Bracelet available in Bronze or Copper (rune, viking, Norse)
The Legends of Odin Armband. A beautifully handcrafted etched and antiqued bronze or copper armband featuring symbols that recall the legends of Norse mythology, and those about Odin in particular. From the center: The Valknut symbolizes the journey of life and death and is often associated with Valhalla. Odin's ravens Hugin (thought) and Mining (memory) flank the Valknut. Then comes the Gar Rune, a symbol of Odin's magical Dwarven forged spear Gungnir, it always hits its target and returns to him. Next are his loyal wolves Geri and Freki stand ever alert and watchful either side. And finally, comes the triple horn of Odin recalling the legend of the mead of poetry which Odin took from three vessels from the stronghold of the giant.
The armband can be made to fit any wrist. Engraved (indented) or Embossed (raised) design armband with a darkened finish. Available in lighter 1.5mm thick or heavy 3mm thick solid copper or a very special limited to a few in 1.8mm thick precious bronze. Size: 170mm long x 23mm wide. Can be customized to fit any wrist. Standard size suits 18-22cm circumference.
Each is handmade and totally unique. No two are the same. The photograph is an example only. All items are made to order. 
On request we will send you photographs of your particular item prior to dispatch for your approval. Actual colours and finish may vary. This is due to the fact that every computer monitor and phone/tablet screen has a different capability to display colours and that everyone sees these colours differently. We try to edit our photos to show the samples as life-like as possible, but please understand the actual colour may vary slightly from your monitor. We cannot guarantee that the colour you see accurately portrays the true colour of the product.
Unless otherwise stated your piece will come coated in a tough invisible transparent lacquer to protect the finish however over time and depending on how its treated this coating may break down. As such, depending on your body chemistry and atmospheric conditions this piece may leave a harmless greenish deposit on the skin. This is easily washed off and can be minimized by keeping the ring clean and dry or lacquering/waxing it yourself.
Non-UK customers. Please note your country may charge import duty, VAT or other taxes on foreign imports. We are in no way accountable or responsible for this and the payment of any such charges are solely the buyer's responsibility. We suggest you familiarize yourself with your country's import regulations before ordering to avoid any unpleasant surprises.