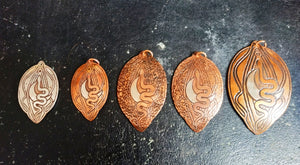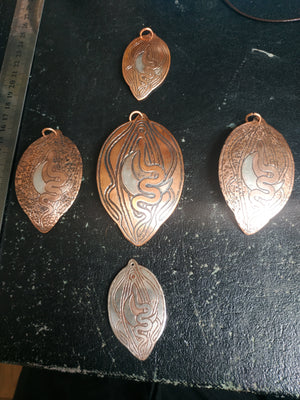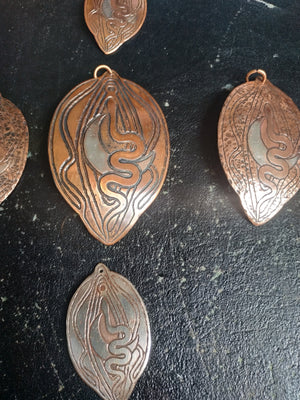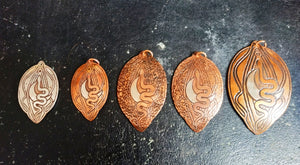 RunecastCopper
Tantric Yoni Kundalini Snake Waxing Moon Copper Pendant, Divine Feminine, Goddess
Tantric Yoni Kundalini Snake Waxing Moon Copper Pendant, Divine Feminine, Goddess, Coiled Serpent Kundalini Energy Hatha Yoga Jewellery
We are pleased to offer our beautiful yoni pendant. An exquisite celebration of the divine feminine sexuality and a real statement piece. 
Available in three sizes, Large is approx 9.5cm (4") tall and the Medium is approx 7.5cm (3") tall. Small is approx 55mm (2") tall Each has a convex shell-like shape. We can offer customization such as hammered texture, silver plated moon or fully silvered. Please specify when ordering. 
The snake represents the release of divine feminine kundalini energy as it uncoils from the base chakra over a waxing crescent moon. This energy release is visualised in the from of a coiled serpent in the beliefs central to Hinduism and the principles of Hatha Yoga  
Made from hand finished antiqued copper with silver plated crescent moon. It is supplied on an adjustable neck cord and comes in a black velvet gift pouch. 
Each Yoni Pendant is hand made to order and totally unique to you. The photographs shown are examples only. On request we will send you photographs of your actual pendant prior to shipping.  
Please note copper and it alloys; bronze and brass, is a natural material with proven antimicrobial properties and although we make no claims, some say anti-inflammatory effects useful for joint pain. Depending on your body chemistry and atmospheric conditions it may leave a harmless greenish deposit on the skin. This is easily washed off and can be minimized by keeping the ring clean and dry or lacquering/waxing the ring yourself.
Non-UK customers. Please note your country may charge import duty, VAT or other taxes on foreign imports. We are in no way accountable or responsible for this and the payment of any such charges are solely the buyer's responsibility. We suggest you familiarize yourself with your country's import regulations before ordering to avoid any unpleasant surprises. We cannot be held responsible in any way for delays due to customs or handling by postal services.