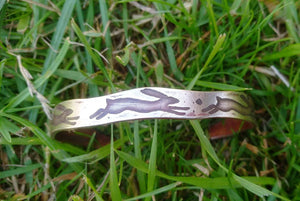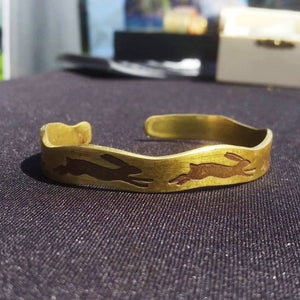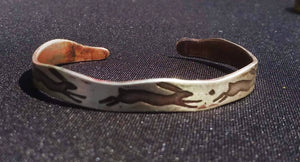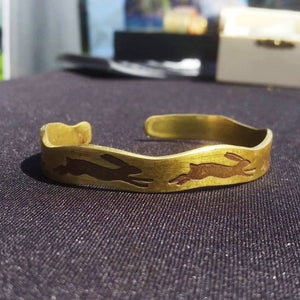 RunecastCopper
Spirit of the Running Hare Cuff Bracelet
Spirit of the running Hare bracelet. The hare is seen by many as a mystical animal, whether gazing at the moon or running free, They have become a symbol of growth, rebirth, new beginnings and good fortune. The wavy design reflects the energy of the leaping hare.
This beautiful handcrafted cuff bracelet is a unique and enchanting piece of jewelry, featuring a wavy shape and is engraved with 5 running hares. The silver plating adds a subtle shine and elegance to the warm copper base, creating a perfect balance of rustic and refined. The wavy shape of the cuff is evocative of the fluidity and movement of water, making it an ideal accessory for a woman with an appreciation for nature and the natural world.
The hares engraved on the cuff symbolize freedom, wild spirit and agility, as well as resilience, fertility, and rebirth. They are also associated with the moon and the goddess of fertility, they are a powerful symbol of nature's mysterious and wild beauty. This cuff is a powerful reminder of the beauty and wildness of nature and is sure to delight anyone with an appreciation for the natural world.
The cuff is designed with a lightweight and comfortable construction, making it easy to wear and perfect for everyday use. The engraved hares are skillfully crafted, adding a touch of intricate detailing to the overall design, making it a unique and eye-catching piece of jewelry. This cuff is handcrafted with care and attention to detail, ensuring that each piece is one-of-a-kind and truly special.
This cuff is perfect for anyone who wants to make a statement with a unique and meaningful piece of jewelry. It's perfect for anyone who appreciates the beauty of nature and wants to add a touch of wildness and freedom to their everyday life. It's also perfect for lovers of natural and bohemian styles. Whether you're at work, out on a date, or just running errands, this cuff will remind you of the beauty of nature and the freedom of wild spirit.
Handcrafted from pure copper or brass or optionally lightly silver plated copper so a hint of the pinkness of the copper shows through. Approx 1cm wide and 1.5mm thick.

The bracelet length is 15cm to fit a wrist 15 to 18cm in circumference. But we can make all sizes. Please ask. See out other listings for a straight version. Each is unique. No two are the same. The photograph is an example only. All items are made to order, as such we will on request send you photographs of your item prior to dispatch for your approval. You will receive your item in a black velour bag with a care leaflet and certificate describing the mythology behind the symbol.
Copper and its alloys; bronze and brass, are natural materials. Unless otherwise stated your piece will come coated in a tough invisible transparent lacquer to protect the finish however over time and depending on how it's treated this coating may break down. As such, depending on your body chemistry and atmospheric conditions this piece may leave a harmless greenish deposit on the skin. This is easily washed off and can be minimised by keeping it clean and dry or lacquering/waxing it yourself.
Non-UK customers. Please note your country may charge import duty, VAT or other taxes on foreign imports. We are in no way accountable or responsible for this and the payment of any such charges are solely the buyer's responsibility. We suggest you familiarise yourself with your country's import regulations before ordering to avoid any unpleasant surprises.