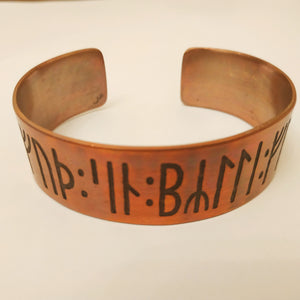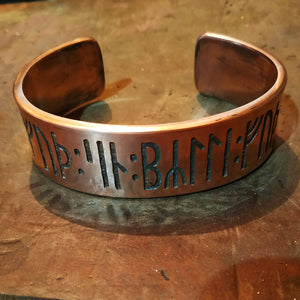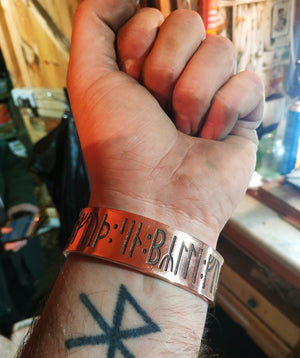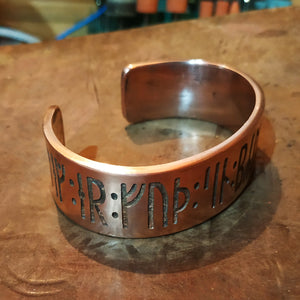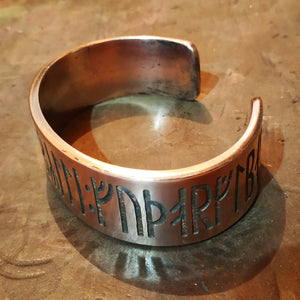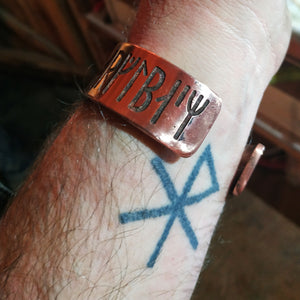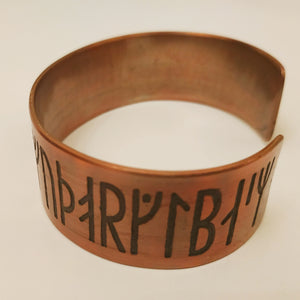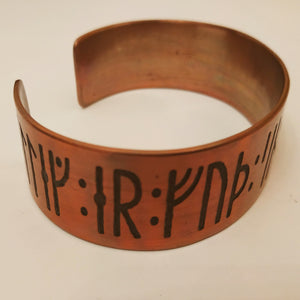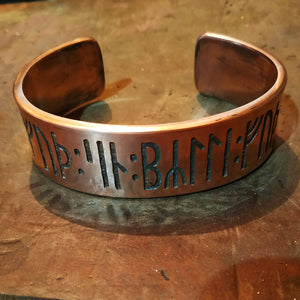 RunecastCopper
Naughty Viking Cuff Bracelet Armband
WARNING ADULT CONTENT
A very naughty viking era inscription
Based on a runic inscription (serial no NB011) found in Bergen, Norway. Originally on a flat wooden stick dating from about 1100AD. The inscription is written in Old Norse and is as follows.
"Féligr er fuð sinn byrli
Fuðorglbasm" which can be translated as "Lovely is the pussy, may the prick fill it up!"
The Bryggen inscriptions are a find of some 670 medieval runic inscriptions on wood (mostly pine) and bone found from 1955 and forth at Bryggen (and its surroundings) in Bergen, Norway. It has been called the most important runic find in the twentieth century. Before the find of these inscriptions, there was doubt whether the runes were ever used for anything else than inscriptions of names and solemn phrases. The Bryggen find showed the everyday use that runes had in this area, and presumably in other parts of Scandinavia as well. Another important aspect of the find was that many of the inscriptions were obviously at least as recent as the 14th century. Previously it was believed that the use of runes in Norway had died out long before.
Handcrafted from pure copper or brass, 20 - 22mm (approx 3/4") wide. We offer the bracelet in either:
* 1.5mm (approx 1/16") thick brass.
* 1.5mm (approx 1/16") thick copper.
* 3mm (approx. 1/8") thick copper.
There are also two standard sizes:
* S/M 15.5cm (6 1/4") to fit a wrist 15-18 cm (6"-7") in circumference.
* L/XL - 17cm (6 3/4") long to fit a wrist 18-21cm (7"-8")
* Custom size (please specify when ordering) Please choose your option when ordering. We can make it any size you require if the standard sizes don't suit you, please let us know when ordering.
Each is unique. No two are the same. The photograph is an example only. All items are made to order, as such on request we will send you photographs of your item prior to dispatch for your approval. You will receive your item in a black velour bag with a care leaflet and certificate with english translation.
Cleansed and blessed for strength, health, and protection from the Old Norse Gods and the Viking Ancestors, by the North Sea at Tynemouth, Northumberland, England at the site of the invasion of Northumbria in 875 AD by Halfdene, first King of the Kingdom of Jorvik (York).
Unless otherwise stated your piece will come coated in a tough invisible transparent lacquer to protect the finish however over time and depending on how its treated this coating may break down. As such, depending on your body chemistry and atmospheric conditions this piece may leave a harmless greenish deposit on the skin. This is easily washed off and can be minimized by keeping it clean and dry or lacquering/waxing it yourself.
Non-UK customers. Please note your country may charge import duty, VAT or other taxes on foreign imports. We are in no way accountable or responsible for this and the payment of any such charges are solely the buyer's responsibility. We suggest you familiarize yourself with your country's import regulations before ordering to avoid any unpleasant surprises.