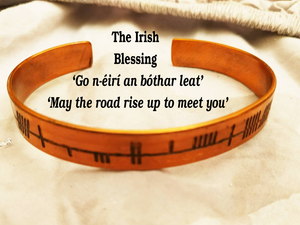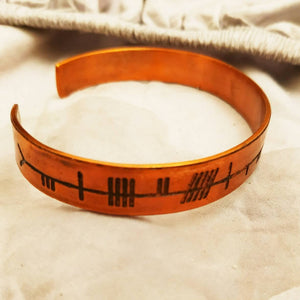 RunecastCopper
Irish Blessing Celtic Ogham Druid Cuff Bracelet in copper
Handcrafted Irish Blessing Celtic Ogham Druid Cuff Bracelet in copper

Made to order. Beautiful, distinctive and unique handcrafted copper/ cuff featuring the first line of the Irish Blessing rendered in the ancient Celtic Ogham Druid Alphabet written in the Irish Language

"Go n-éirí an bóthar leat"

literally "may you succeed in the journey" but usually tranaslated as 'May the road rise up to meet you'

From the Irish Blessing

May the road rise up to meet you.
May the wind be always at your back.
May the sun shine warm upon your face;
And the rains fall soft upon your fields
Until we meet again.

Each Ogham symbol represents not only a letter but is also associated with a particular tree.

Copper Cuff 1cm wide and 1.5mm thick.

2 different sizes:

S/M for wrist 15-18cm in circumference

L/XL for larger wrist 18-21cm.

Each one is unique. No two are the same. The photographs above are an example only. As all items are made to order we will advise you of estimated dispatch date. This item comes with velvet gift bag, a certificate explaining the meaning behind the symbology and a care leaflet.

Unless otherwise stated your piece will come coated in a tough invisible transparent lacquer to protect the finish however over time and depending on how its treated this coating may break down. As such, depending on your body chemistry and atmospheric conditions this piece may leave a harmless greenish deposit on the skin. This is easily washed off and can be minimized by keeping it clean and dry or lacquering/waxing it yourself.

Non-UK customers. Please note your country's customs officials may delay the item and may charge import duty, VAT or other taxes on foreign imports. We are in no way accountable or responsible for this and the payment of any such charges are solely the buyer's responsibility. We suggest you familiarize yourself with your country's import regulations before ordering to avoid any unpleasant surprises.