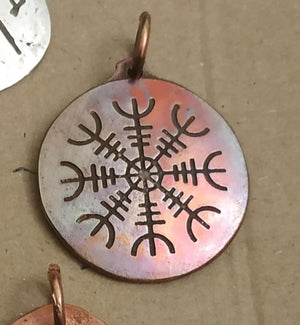 RunecastCopper
Helm of Awe Pendant-Viking symbol of Protection, Aegishjalmer
The Helm of Awe, Old Norse Ægishjálmr, pronounced "EYE-gis-hiowlm-er" is believed to be one of the most mysterious and powerful symbols in Norse mythology. It was said to be worn, perhaps painted in blood, on the foreheads of warriors before battle rendering them invincible against their enemies. May it give you similar protection in all aspects of your life.
This copper pendant is 1.5mm thick, approx 30mm in diameter and gently domed to give it a three dimensional quality. It's been heat treated to give it a coloured patina. This is an example only.
No two are the same. The photographs above are an example only. As all items are made to order we will on request send you photographs of your item prior to dispatch for your approval. This item comes with an adjustable length neck cord with velvet gift bag, a certificate explaining the meaning behind the symbology and a care leaflet.
Cleansed and blessed for strength, health, and protection from the Old Norse Gods and the Viking Ancestors, by the North Sea at Tynemouth, Northumberland, England at the site of the invasion of Northumbria in 875 AD by Halfdene, first King of the Kingdom of Jorvik (York).
Unless otherwise stated your piece will come coated in a tough invisible transparent lacquer to protect the finish however over time and depending on how its treated this coating may break down. As such, depending on your body chemistry and atmospheric conditions this piece may leave a harmless greenish deposit on the skin. This is easily washed off and can be minimized by keeping it clean and dry or lacquering/waxing it yourself.
Non-UK customers. Please note your country may charge import duty, VAT or other taxes on foreign imports. We are in no way accountable or responsible for this and the payment of any such charges are solely the buyer's responsibility. We suggest you familiarize yourself with your country's import regulations before ordering to avoid any unpleasant surprises.