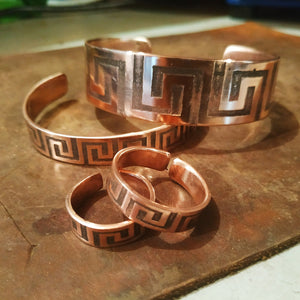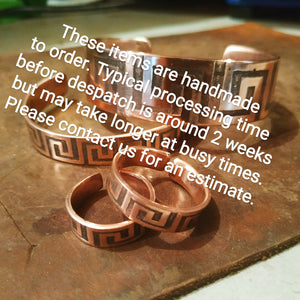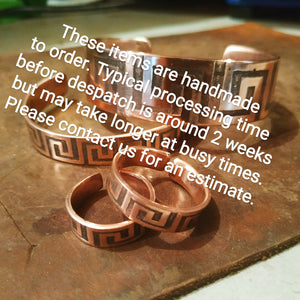 RunecastCopper
Greek Key Pattern Ring
Greek Key Pattern Ring in copper, bronze or brass. Ideal handfasting ring or wedding band. 
HANDMADE TO ORDER. PLEASE ALLOW 2-3 WEEKS BEFORE DESPATCH
PLEASE SPECIFY SIZE WHEN ORDERING RINGS. Free sizing chart here
Inspired by our recent trip to Cyprus, birthplace of Aphrodite. The ancient name of the island Kúpros is synonymous with the old Latin name for copper, cuprous. The island was the most important source of the metal to the ancient civilisations of the Mediterranean.
Featuring the simple classical elegance of the Greek key pattern. The rings are 6mm wide and are open adjustable. 
Matching Greek Key Pattern Bracelet available here. 
Each is handmade and totally unique, no two are the same. The photograph is an example only. All items are made to order.
Please note copper and it alloys have proven antimicrobial properties and although we make no claims, some say there are anti-inflammatory effects useful for joint pain. Although the item is lacquered to protect the patina this will not last forever and the piece will develop its own natural patina over time. Depending on your body chemistry and atmospheric conditions it may leave a harmless greenish deposit on the skin. This is easily washed off and can be minimized by lacquering or waxing it yourself if necessary.
Our Non-UK customers please note your country may charge import duty, VAT or other taxes on foreign imports. We are in no way accountable or responsible for this and the payment of any such charges are solely the buyer's responsibility. We suggest you familiarize yourself with your country's import regulations before ordering to avoid any unpleasant surprises.