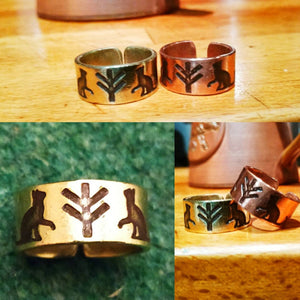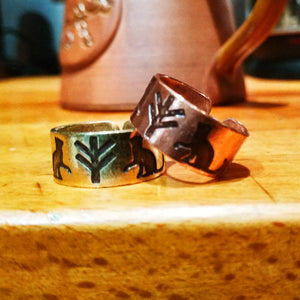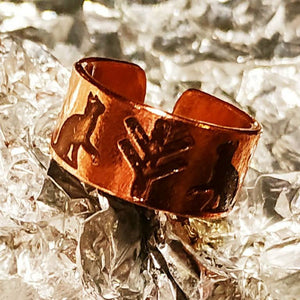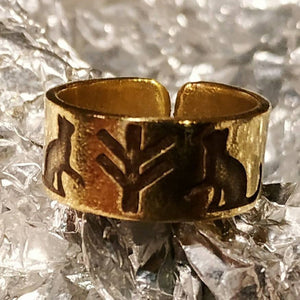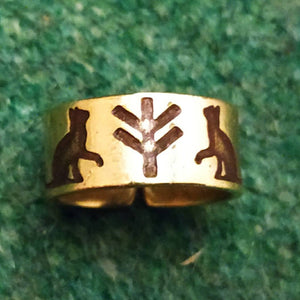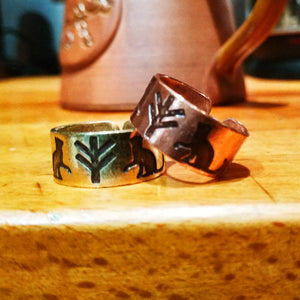 RunecastCopper
Freyja Fehu/Algiz Rune and Cats Ring in Bronze, Copper, Brass or Steel - Viking, Norse. Pagan Heathen Wedding Handfasting
Freyja Goddess Ring. Wear the ring that symbolises the old Norse goddess of love, magic and fertility. Featuring a pair of Freyja's cats (her chariot was pulled by cats) flanking a double bind rune Fehu (rune of of plenty and fertility) and Algiz (powerful protection). We have made matching pairs of these for engagement, weddings and Handfastings. A permanent token of deep love.
They are available in copper, brass, bronze and stainless steel. Each is unique. No two are the same. The photograph is an example only. All items are made to order,
All sizes can be accommodated. The ring is an approx 10mm wide and 1.5mm (1.00mm steel) thick. Copper, bronze and brass with an antiqued patina finish which will change naturally over time as you wear it.
It will come in its own velvet pouch with an owners certificate and a care leaflet.
Unless otherwise stated your piece will come coated in a tough invisible transparent lacquer (not required for steel) to protect the finish however over time and depending on how its treated this coating may break down. As such, depending on your body chemistry and atmospheric conditions this piece may leave a harmless greenish deposit on the skin. This is easily washed off and can be minimized by keeping it clean and dry or lacquering/waxing it yourself.
Non-UK customers. Please note your country may charge import duty, VAT or other taxes on foreign imports. We are in no way accountable or responsible for this and the payment of any such charges are solely the buyer's responsibility. We suggest you familiarize yourself with your country's import regulations before ordering to avoid any unpleasant surprises.