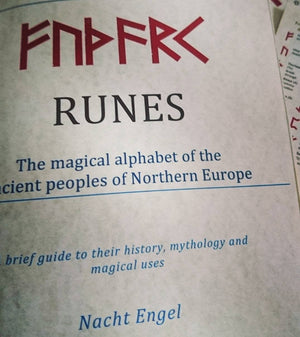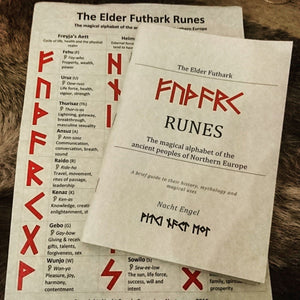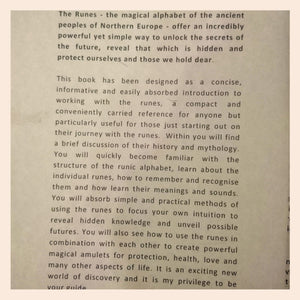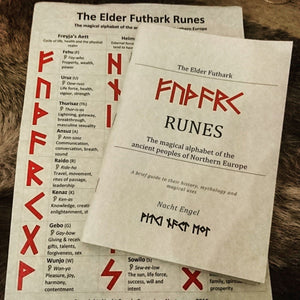 RunecastCopper
Elder Futhark Rune Book (Norse, viking, asatru, tarot) introduction to the runes, history, Mythology, divination and magic
Available in physical and digital formats. You get the digital version free when you order the printed version. 
A concise guide available printed on cream parchment style paper and hand bound with parchment style card cover or as a digital PDF download which is available for immediate download on payment.
A concise and easily absorbed introduction to the power of the runes. The Runes - the magical alphabet of the ancient peoples of Northern Europe - offer an incredibly powerful yet simple way to unlock the secrets of the future, reveal that which is hidden and protect ourselves and those we hold dear. This book has been designed as a concise, informative and easily absorbed introduction to working with the runes, a compact and conveniently carried reference for anyone but particularly useful for those just starting out on their journey with the runes. Within you will find a brief discussion of their history and mythology. You will quickly become familiar with the structure of the runic alphabet, learn about the individual runes, how to remember and recognise them and how learn their meanings and sounds. You will absorb simple and practical methods of using the runes to focus your own intuition to reveal hidden knowledge and unveil possible futures. You will also see how to use the runes in combination with each other to create powerful magical amulets for protection, health, love and many other aspects of life. It is an exciting new world of discovery and it is my privilege to be your guide.
Physical version Includes an A4 quick reference information sheet.
The photographs are an example only. All items are made to order.
Non-UK customers please note your country may charge import duty, VAT or other taxes on foreign imports. We are in no way accountable or responsible for this and the payment of any such charges are solely the buyer's responsibility. We suggest you familiarise yourself with your country's import regulations before ordering to avoid any unpleasant surprises.