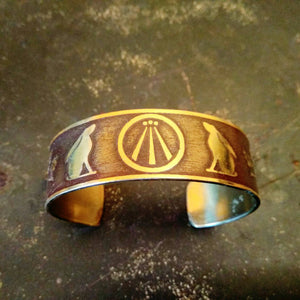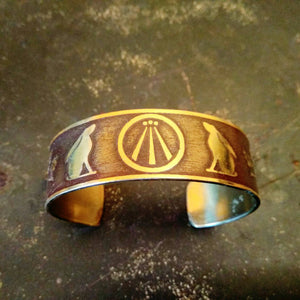 RunecastCopper
Druid Awen, Hares and Oak Leaf Garland Armband Cuff Bracelet
Druid symbolism
The central Awen is flanked by a pair of hares and garlands of oakleaves.
Sizes: S/M measures 155mm to fit wrist circumference 15-18cm L/XL measures 170mm to fit wrist circumference 18-21cm We can customise to fit any wrist - please specify size with the order if you require a non-standard size.
Each is handmade and totally unique. No two are the same. The photograph is an example only. All items are made to order. We will on request send you photographs of your particular item prior to dispatch for your approval.
Unless otherwise stated your piece will come coated in a tough invisible transparent lacquer to protect the finish however over time and depending on how its treated this coating may break down. As such, depending on your body chemistry and atmospheric conditions this piece may leave a harmless greenish deposit on the skin. This is easily washed off and can be minimized by keeping the ring clean and dry or lacquering/waxing it yourself.
Non-UK customers. Please note your country may charge import duty, VAT or other taxes on foreign imports. We are in no way accountable or responsible for this and the payment of any such charges are solely the buyer's responsibility. We suggest you familiarize yourself with your country's import regulations before ordering to avoid any unpleasant surprises.