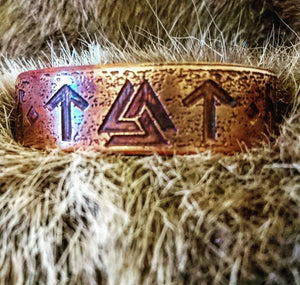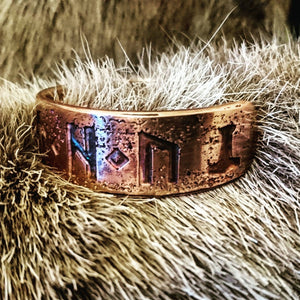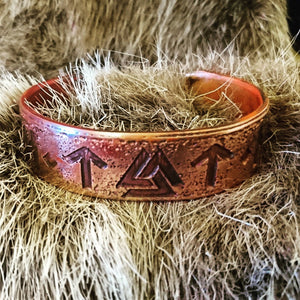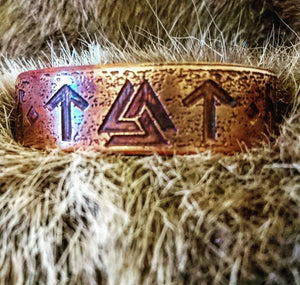 RunecastCopper
Custom Norse Warrior Valhalla Armband Bracelet choose your own 3 runes
We are delighted to offer our beautiful and powerful Valhalla Warrior Armband. This statement piece is dedicated to the noble spirit of the warrior. The bracelet features a central Valknut (the knot of the fallen warrior) flanked by Elder Futhark runes - example shows Tiwaz, rune of victory and justice - Hagalaz, the power and rapid change of the hail storm and - Uruz for strength and vitality. You can select any three runes of the elder furthark - please specify when ordering. Each end is flanked by Mjolnir (Thor's hammer).
The bracelet is made from heavy gauge copper 3mm thick, (1/8" approx.) 20mm wide (5/8") and to fit wrist 16-21cm (6.5-8.25") upwards, although we can make one to fit any wrist. 85g (3.5oz) In weight It has a really substantial feel to it, but is very comfortable to wear. The copper has been deeply etched and antiqued to offer a beautiful bronze finish. All our pieces are then lacquered and waxed to protect the finish.
Each is handmade and totally unique. No two are the same. The photograph is an example only. All items are made to order. On request we will send you photographs of your particular item prior to dispatch for your approval.
Your Armband will be supplied in a gift bag and comes with a certificate explaining the symbolism. If you would like your item customised please contact us.
Copper and its alloys; bronze and brass, are natural materials with proven anti-microbial properties and although we can make no claims, some say anti-inflammatory effects are helpful for joint pain. Unless otherwise stated your piece will come coated in a tough invisible transparent lacquer to protect the finish however over time and depending on how its treated this coating may break down. As such, depending on your body chemistry and atmospheric conditions this piece may leave a harmless greenish deposit on the skin. This is easily washed off and can be minimised by keeping the ring clean and dry or lacquering/waxing it yourself.
Non-UK customers. Please note your country may charge import duty, VAT or other taxes on foreign imports. We are in no way accountable or responsible for this and the payment of any such charges are solely the buyer's responsibility. We suggest you familiarise yourself with your country's import regulations before ordering to avoid any unpleasant surprises. Your bracelet will take 2-3 weeks to make plus shipping time. If your need is urgent we may be able to give it priority at additional cost.