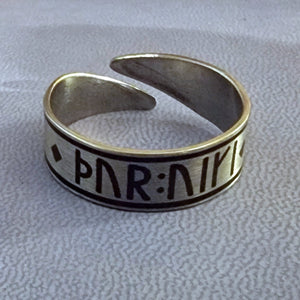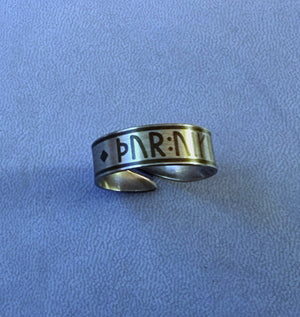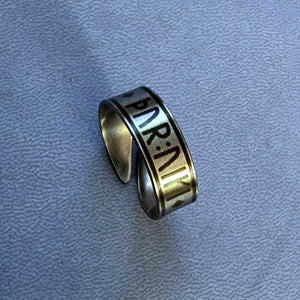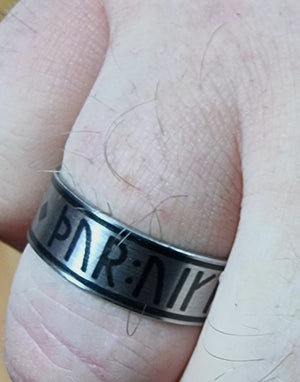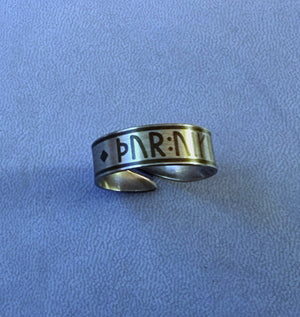 RunecastCopper
Thor's Blessing Ring (Þor vigi) with Younger Futhark Viking Runes in Stainless Steel
Younger Futhark Runes the Old Norse phrase "Thor Vigi" meaning "May Thor bless, hallow or protect" the wearer is precision engraved on to this beautifully handcrafted stainles steel ring.
The ring is an open style so can stretch to accommodate a few sizes up or down. Please specify your ring size when you order so we can send on the will be the perfect fit.
Your ring will come is a black velvet gift bag with certificate explaining the meaning of the inscription. 
Each is handmade and totally unique. No two are the same. The photograph is an example only. All items are made to order. On request will send you photographs of your particular item prior to dispatch for your approval.
Non-UK customers. Please note your country may charge import duty, VAT or other taxes on foreign imports. We are in no way accountable or responsible for this and the payment of any such charges are solely the buyer's responsibility. We suggest you familiarise yourself with your country's import regulations before ordering to avoid any unpleasant surprises. Price includes UK postage. All other destinations at cost.