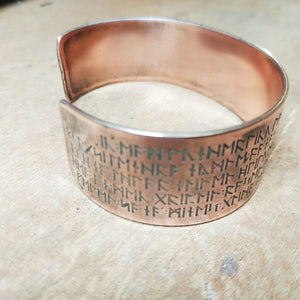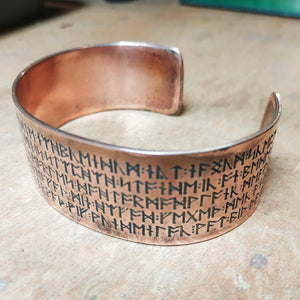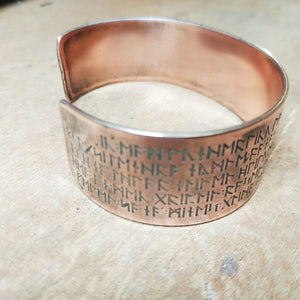 RunecastCopper
Anglo-Saxon Futhorc Runes Exeter Book Riddle 25 Armband Cuff Bracelet
A delightfully risqué Anglo Saxon riddle known as the Exeter Book Riddle 25 dating from the 10th century. Can you guess the answer?
It's rather naughty piece of writing but answer might surprise you. We liked it so much we used the original Old English text and transcribed into the Anglo-Saxon Futhorc Runes to make this copper bracelet for our collection.  It's finished with an antique worn look. 
Here is the text in modern and old English
"I am a wondrous creature, a joy to women,
a help to neighbours; I harm none
of the city-dwellers, except for my killer.
My base is steep and high, I stand in a bed,
shaggy somewhere beneath. Sometimes ventures
the very beautiful daughter of a churl,
a maid proud in mind, so that she grabs hold of me,
rubs me to redness, ravages my head,
forces me into a fastness. Immediately she feels
my meeting, the one who confines me,
the curly-locked woman. Wet will be that eye."
"Ic eom wunderlicu wiht, wifum on hyhte,
neahbuendum nyt; nængum sceþþe
burgsittendra, nymþe bonan anum.
Staþol min is steapheah, stonde ic on bedde,
neoþan ruh nathwær. Neþeð hwilum
ful cyrtenu ceorles dohtor,
modwlonc meowle, þæt heo on mec gripeð,
ræseð mec on reodne, reafað min heafod,
fegeð mec on fæsten. Feleþ sona
mines gemotes, seo þe mec nearwað,
wif wundenlocc. Wæt bið þæt eage."
Handcrafted from pure copper 1.5mm thick
L/XL measuring approx 25mm wide to fit a wrist circumference 18-21cm.
S/M measuring approx 22mm wide to fit wrists 15cm to 18cm in circumference.
Each is unique. No two are the same. The photograph is an example only. All items are made to order, as such we will send you photographs of your item prior to dispatch for your approval.
Copper and it's alloys; bronze and brass, are natural materials with proven antimicrobial properties and although we can make no claims, some say its anti-inflammatory effects are useful to relieve joint pain. Unless otherwise stated your piece will come coated in a tough invisible transparent lacquer to protect the finish however over time and depending on how its treated this coating may break down. As such, depending on your body chemistry and atmospheric conditions this piece may leave a harmless greenish deposit on the skin. This is easily washed off and can be minimised by keeping it clean and dry or lacquering/waxing it yourself.
Non-UK customers. Please note your country may charge import duty, VAT or other taxes on foreign imports. We are in no way accountable or responsible for this and the payment of any such charges are solely the buyer's responsibility. We suggest you familiarise yourself with your country's import regulations before ordering to avoid any unpleasant surprises. We are in no way accountable for any customs delays