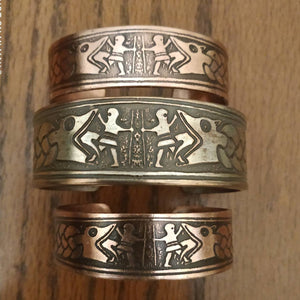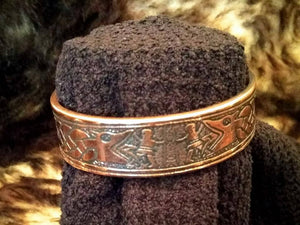 RunecastCopper
Vidar and Fenrir at Ragnarok Armband Bracelet Cuff Norse Viking Asatru
This is the Víðarr and Fenrir armband in copper inspired by a detail on Gosforth Cross in Cumbria. It depicts Víðarr (Odin's son. God of vengeance.and rebirth) killing Fenrir the wolf at Ragnarok. During Ragnarok, the gods and the giants battled and almost all everyone was killed. Odin was devoured by the wolf Fenrir. Víðarr attacked the wolf to avenge his father's death. He wore a special shoe that had been crafted for this particular moment with which he kicked open the wolf's lower jaw, and whilst holding the beast's upper jaw open chopped and hacked its mouth to pieces.
From Wikipedia.
The Gosforth Cross is a large stone Anglo-Saxon cross in St Mary's churchyard at Gosforth in the English county of Cumbria. Formerly part of the kingdom of Northumbria, the area was settled by Scandinavians some time in either the 9th or 10th century. The cross itself dates to the first half of the 10th century. The cross is 4.4 metres tall and made out of red sandstone. It is estimated to date from 920-950 and is still in fairly good condition.
Available in Brass, Copper, Bronze. Sizes: S/M  to fit wrist circumference 15-18cm L/XL  to fit wrist circumference 18-21cm We can customise to fit any wrist - please specify size with the order if you require a non-standard size.
Each is handmade and totally unique. No two are the same.
The photograph is an example only. All items are made to order. We will send you photographs of your particular item prior to dispatch for your approval.
Copper and its alloys; bronze and brass, are natural materials with proven anti-microbial properties and although we can make no claims, some say anti-inflammatory effects useful for joint pain.
Unless otherwise stated your piece will come coated in a tough invisible transparent lacquer to protect the finish however over time and depending on how its treated this coating may break down. As such, depending on your body chemistry and atmospheric conditions this piece may leave a harmless greenish deposit on the skin. This is easily washed off and can be minimized by keeping the ring clean and dry or lacquering/waxing it yourself.
Non-UK customers. Please note your country may charge import duty, VAT or other taxes on foreign imports. We are in no way accountable or responsible for this and the payment of any such charges are solely the buyer's responsibility. We suggest you familiarize yourself with your country's import regulations before ordering to avoid any unpleasant surprises.