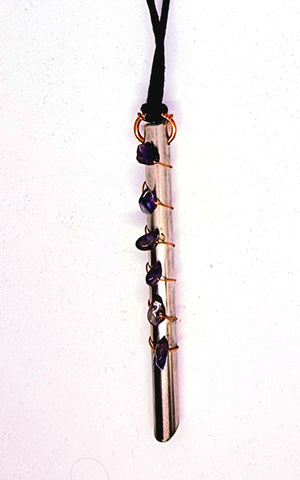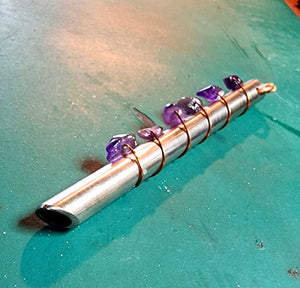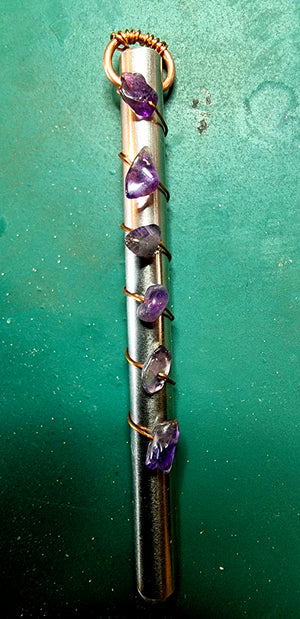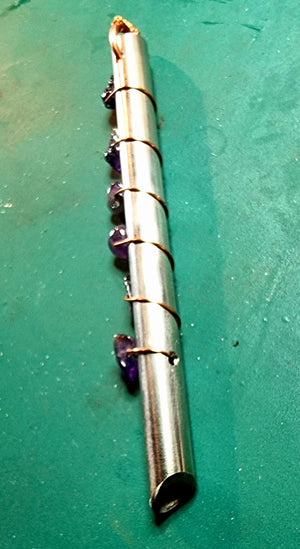 RunecastCopper
Prana Breath Pendant - relaxing meditation necklace - stainless steel, copper wire wrapped with amethyst
Prana is the sankskrit word for "Breathe", considered as a life-giving force.
"prana is seen as a universal energy which flows in currents in and around the body"
Helps with calming and meditation, relieves stress and anxiety, slow breathing and alleviate panic by increasing the time you exhale. Just breath slowly out through the tube and feel the stress melt away. 
WARNING
Should be cleaned after use. This is not a medical device and we make no such claims. It simply employs a technique to slow down breathing.
If you feel dizzy or unwell when using it stop immediately.
Straw Breathing
Inhale normally and naturally.
Exhale fully through the tube make sure you have exhaled all of the air out of your lungs.
Inhale normally (not through the straw).
Exhale fully out of the straw.
Repeat this exercise for 5 minutes.
Ideally, do this twice a day

Stainless steel tube approx 4" (10cm) long 8mm external diameter wrapped with copper wire and decorated with amethyst chip beads. 
You will receive your item in a black velvet bag with a care leaflet and certificate
Each is handmade and totally unique, no two are the same. The photograph is an example only. All items are made to order, as such we will on request send you photographs of your item prior to dispatch for your approval. 
Non-UK customers. Please note your country may charge import duty, VAT or other taxes on foreign imports. We are in no way accountable or responsible for this and the payment of any such charges are solely the buyer's responsibility. We suggest you familiarize yourself with your country's import regulations before ordering to avoid any unpleasant surprises. We cannot be held responsible in any way for delays due to customs or handling by postal services.