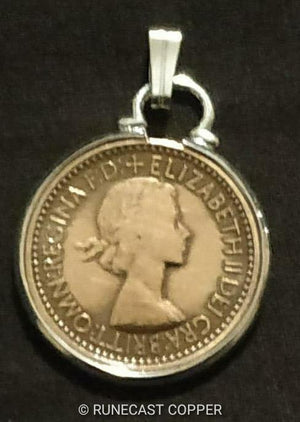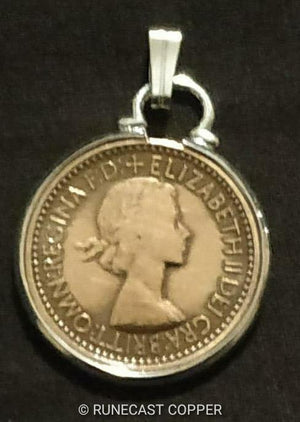 RunecastCopper
Jenny Wren Farthing Pendant, Old British Coin Necklace,18" Sterling Silver Chain
Beautifully delicate Wren pendant made with a farthing, an old British coin that was worth 1/4 of a penny.
Various minting dates available. Please ask to see it we have one suitable commemorate a birthday present or other occasion. Email us@runecastcopper.com 
One side slhas the Wren and the date of the coin and the other side has the head of the rigning king or queen. 
Approx 20mm in diameter the first coin is held securely in a sliver plated mount to cleatly show both sidea of the pendant
Comes on a fine 18" 925 sterling silver belcher chain with velvet gift bag and owners certificate. Handmade to order.
Each necklace unique. No two are the same. The photograph is an example only. All items are made to order, as such we will, in request, send you photographs of your item prior to dispatch for your approval.
Non-UK customers. Please note your country may charge import duty, VAT or other taxes on foreign imports. We are in no way accountable or responsible for this and the payment of any such charges are solely the buyer's responsibility. We suggest you familiarise yourself with your country's import regulations before ordering to avoid any unpleasant surprises. We cannot be held responsible in any way for delays due to customs or handling by postal services.