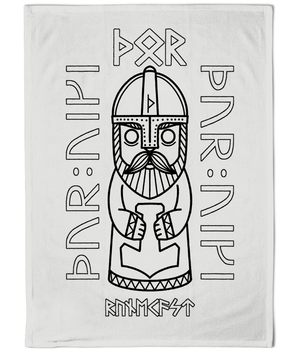 RunecastCopper
Thor Tea Towel - Cotton Dish Towel - Viking Thunder God
Thor Viking God of Thunder Cotton Tea Towel

In Germanic mythology: Germanic and Norse mythology, Thori/Thunnor is a hammer-wielding Æsir: god associated with lightning, thunder,  storms, Sacred trees and groves in Germanic paganism and mythology: sacred groves and trees, Physical strength: strength, the protection of mankind and also Hallow: hallowing and Fertility: fertility.

Our towel has his name rendered in Elder Futhark Runes and down each side in Younger Futhark Runes the Old Norse phrase "Thor Vigi" meaning "May Thor bless, hallow or protect" the user.
Fantastic quality tea towel made from 100% cotton.
Washing Instructions: Wash at 30 degrees. Not suitable for tumble drying. 
Dimensions: 48 x 70cm (Approx)
Non-UK customers. Please note your country's customs officials may delay the item and may charge import duty, VAT or other taxes on foreign imports. We are in no way accountable or responsible for this and the payment of any such charges are solely the buyer's responsibility. We suggest you familiarize yourself with your country's import regulations before ordering to avoid any unpleasant surprises. We are not responsible for post or customs or other delays once shipped.