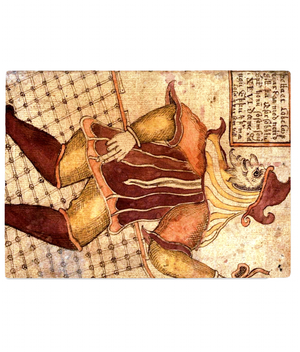 RunecastCopper
Loki - Icelandic Manuscript Tempered Glass Chopping Board
SÁM 66 (Stofnun Árna Magnússonar á Íslandi) is an 18th-century Icelandic manuscript written in Iceland in 1765. It contains many wonderful scenes from Norse Mythology.
Here we have our old friend Loki looking as mischievous as ever. He is to be found at the heart of so many of the wonderful tales of the Norse.
Beautifully textured and hard-wearing, they have a heatproof surface and anti slip rubber feet.
Product Size
Large: 280 mm x 390 mm
Wipe clean only - Avoid contact with harsh chemicals such as bleach