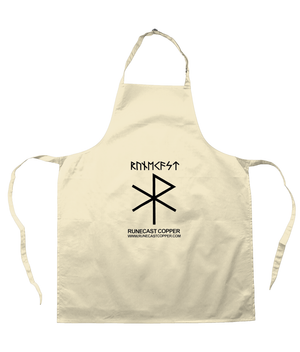 RunecastCopper
Apron - Runecast Copper
Runecast Copper Apron  featuring our iconic bindrune of Gebo and Wunjo (The joy of gifts and the gift of joy.  A practical and useful item for the home or workshop.  
Printed in black on a natural coloured textile.
Material: 65% polyester/35% cotton twill.
Self fabric neck tie with sliding, adjustable buckle.
Industrial laundry 85°C.
Domestic wash 60°C.
WRAP Certified Production.
Weight: