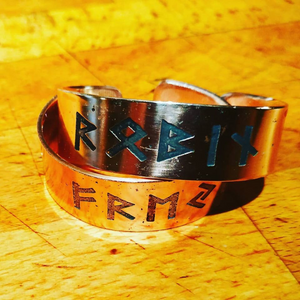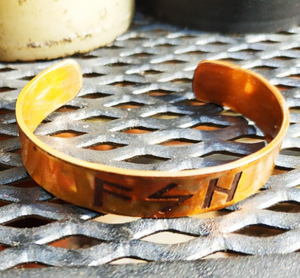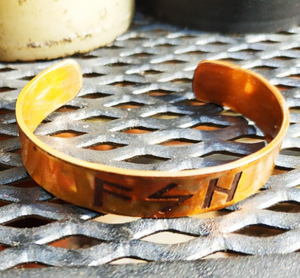 RunecastCopper
Custom Made Elder Futhark Rune Bracelet in Copper - Chose your own name/inscription
We are delighted to offer our beautiful and distinctive custom made., bespoke and personalised Elder Futhark Rune Bracelet.
Any name or phrase of your choosing up to about 25 characters can be accommodated. Please specify when ordered.  Note we will use the exact spelling you provide so please check carefully before submission as mistakes cannot be rectified later.  Please also note that Elder Futhark Runes are much older than the English language which it was never meant to represent.  In particular, certain letters do not exist and compromises have to be made to accommodate those. For example, X is represented as "KS" and Q as KW. 
The bracelet is available in heavy gauge copper 3mm thick, (1/8" approx.) 20mm wide (5/8")  or in lighter weight 1.5mm thick copper in widths of 10,15 or 20mm.
S/M measures 15.5cm to fit wrist 15-18cm in circumference, L/XL is 18cm to fit wrists 18-21cm in circumference. We can make one to fit any wrist, please supply wrist circumference with your order.
The copper has been deeply etched and antiqued to offer a beautiful bronze finish. All our pieces are then lacquered and waxed to protect the finish.
Each is handmade and totally unique. No two are the same. The photograph is an example only. All items are made to order. On request, we will send you photographs of your particular item prior to dispatch for your approval.
Your Armband will be supplied in a gift bag.
PLEASE NOTE: Custom made and personalised bespoke pieces cannot be returned unless they are faulty.
Copper and its alloys; bronze and brass, are natural materials with proven anti-microbial properties and although we can make no claims, some say anti-inflammatory effects are helpful for joint pain. Unless otherwise stated your piece will come coated in a tough invisible transparent lacquer to protect the finish however over time and depending on how its treated this coating may break down. As such, depending on your body chemistry and atmospheric conditions this piece may leave a harmless greenish deposit on the skin. This is easily washed off and can be minimised by keeping the ring clean and dry or lacquering/waxing it yourself.
Non-UK customers. Please note your country may charge import duty, VAT or other taxes on foreign imports. We are in no way accountable or responsible for this and the payment of any such charges are solely the buyer's responsibility. We suggest you familiarise yourself with your country's import regulations before ordering to avoid any unpleasant surprises.   We are not responsible for any delays due to customs hold-ups which are outside of our control.